TONINO LAMBORGHINI DYNAMIC BUSINESS PACKAGE
We are not only providing you with a comfortable stay experience. We have prepared a top class business package of the charging bull (Toro) of Tonino Lamborghini brand. Package includes a signature pen with case and a Toro notebook. Make it your first choice for an exclusive business trip.
Package includes:
1) One-night stay in hotel;
2) The buffet breakfast for 1 adult;
3) One complimentary Toro signature pen with gift box and a Toro limited edition notebook.
4) Complimentary use gym &indoor swimming pool
5) Free car parking.
VALID: March 29 to December 31, 2019
PACKAGE PRICE:
Garden View Rooms - RMB 729
Lake View Rooms - RMB 829
The above rates include service charge and value added tax.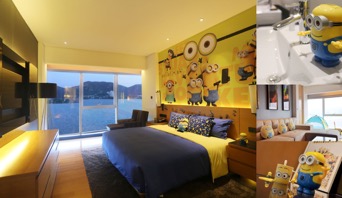 FAMILY THEMED SUITES
Tonino Lamborghini Huangshi has themed two of our suites with kids' favorite cartoon; the "Minions" and "Hello Kitty".